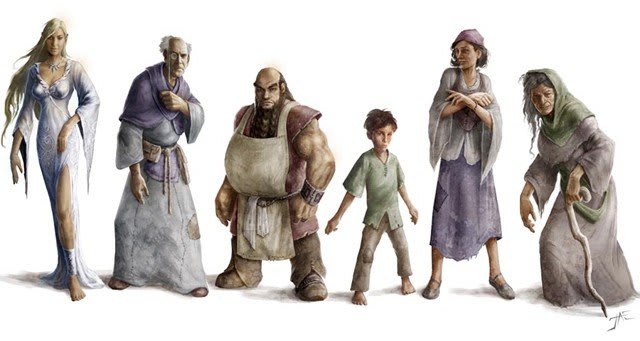 When opening this page we'll automatically generate an NPC for you . If we generated something you like, you can click the little black lock. This locks the generated result. Then press the Regenerate unlocked button. This will generate new values for all unlocked values. Rinse and repeat until you like what you see.
When you're happy with the NPC you generated press the Save as PDF button. A pdf containing the generated NPC will be saved to your system. This pdf shows all generated fields such as Name, Race, Gender, Age, Appearance and General Competence Bonus. In addition you'll find all fields to let this minor NPC grow into a major, story-line NPC.
The story-line NPC fields are Motivation, Obstacles, Relationships and Disposition towards players. We didn't came up with these ourselves. We listened to Matthew Colville, Matthew Mercer, Brandon Mull and Mike Shea. We concluded it all in The conclusion on NPCs.
The NPC's name is dependent on race and gender. If you lock the name, we'll lock the race and gender. If you unlock race or gender, we'll unlock the name.
If you have any feedback don't hesitate to contact us using one of the social media features below. We appreciate it. Be like Mr Handles. He made clear regenerating locked names wasn't working as expected!