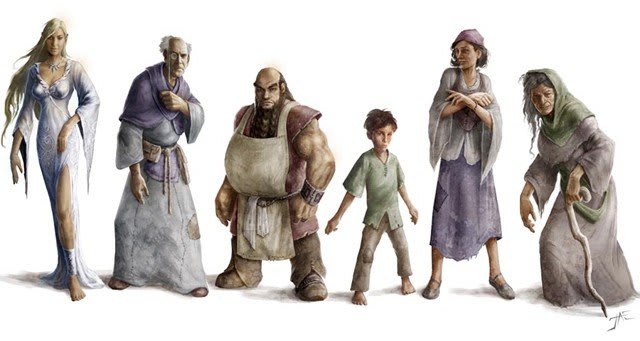 Comparing all notes we find the following:
Less is more
Be consistent
There are major (storyline) and minor NPCs
Be horrible to your NPCs
Considering "less is more" it needs to be as little as possible. Considering they need to be flexible, able to grow into your world, we cannot ground them in any way into our world.
We can reduce them to the following properties:
Name
Race
Gender
Age
Appearance (Personality, notable facts, expression, mannerisms & quirks)
After listening to the masters I turned to where I could find real opinions, Twitter! And some of you came to my aid.
@followmeanddie1: Name, skills, special knowledge, quirks, personality, and a secret.
@spilledale: One or two unique features.
@SkyrendPodcast: Name, best and worst stat, personality trait/flaw.
@CoryTucholski: All I need is what screenwriting guru Blake Snyder called 'A Limp and an Eyepatch'.
@ShipsNCanon: Specific traits (bonuses or penalties accordingly)
@sandergusinow: General 'competence' modifier
@InternetMayor: best and worst stat, saving throws
And you guys seem to know your stuff. Or at least agree with the masters. Besides, there's 1 property you all mention. The 'best and worst stat' or 'skill'. In the interest of keeping it as small as possible, I chose to add the general 'competence' modifier.
This leaves us with:
Name
Race
Gender
Age
Appearance (Personality, notable facts, expression, mannerisms & quirks)
General competence modifier
The major NPC template extends the minor NPC template. Either from the start or because a minor NPC evolved into a major one. Major NPCs drive your storyline. They need to be grounded in your world. Here too we can find similarities between the masters;
Motivation, ambitions, driving elements, and triggers.
Obstacles and troubles. (What keeps them from realizing the above)
Relationships & Affiliations .
Disposition towards players.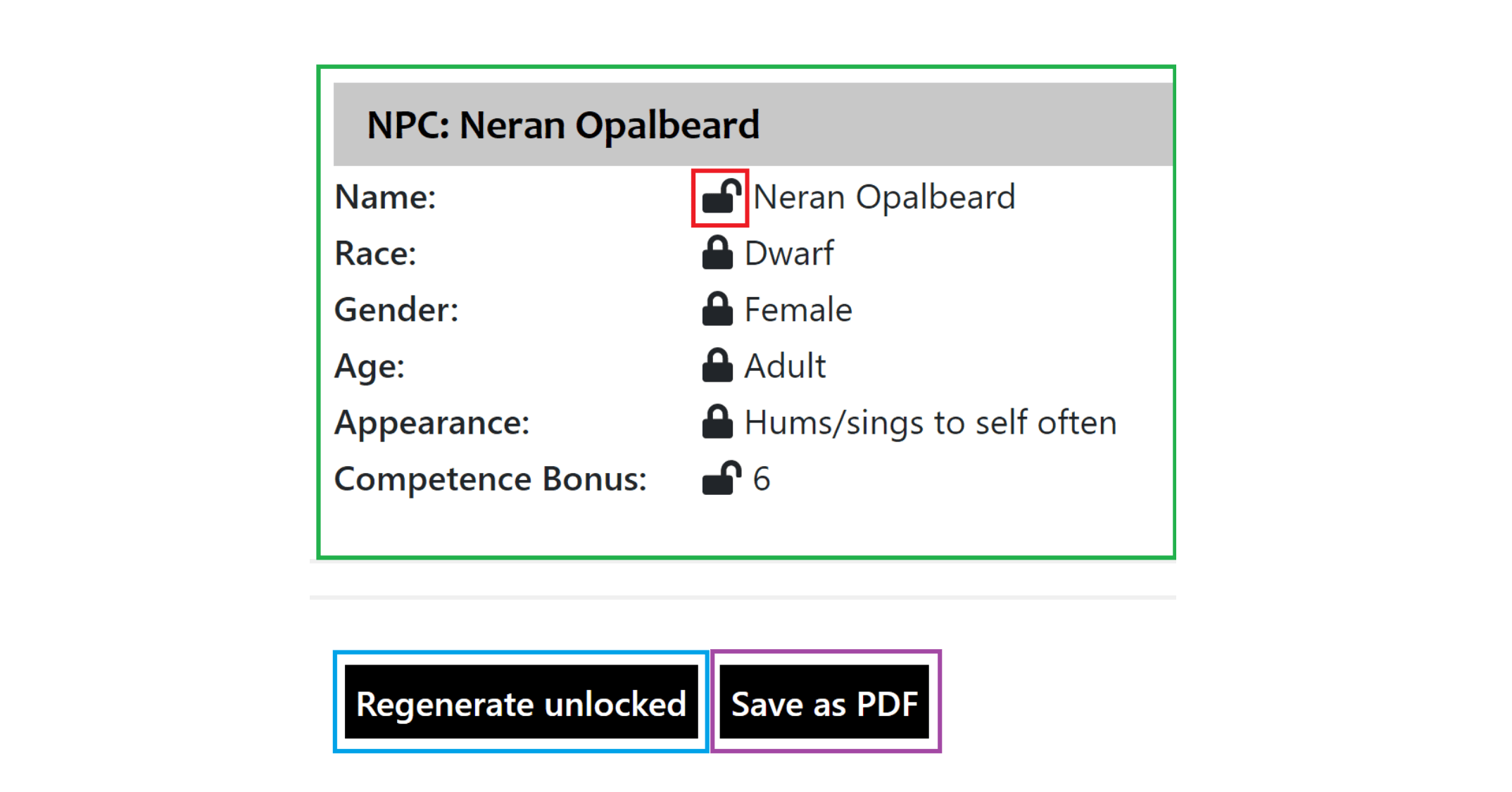 Coming up with a lot of minor NPCs still is a huge and boring task. So we called in the goblins to do this for us. Below you can find an example of a generated NPC (Green). Sinds it's random and goblin-driven results may vary. So you might need to push the 'Regenerate Unlocked' button (Blue) a few times. If you like a few properties but not all you can lock the item in place (Red) before you regenerate (Blue). Once you are happy, push the 'Save as PDF' button to save your generated NPC (Purple).
The resulting PDF will show a major NPC template with all the generated minor NPC
data generated. Happy gaming!